My resolution this year, as written in one of my many obsessive lists, was to 'Start a fabulously witty blog'.
So, here it is. The blog part anyway - the fabulous witticism may take a while to kick in, I'm new to this.
Things I plan for this blog to contain: Reviews and features about events, gigs, products and places. A wee bit of vegan cookery. Vintage fashion and beauty. Updates about my fabulous millinery and accessories business, Kalandra Jane Designs. Retro crafts and sewing. Anything else which takes my fancy!
To start, I thought I'd create a little look back on a few things I did last month:
A fantastic project I was recently lucky enough to be involved in was the launch of CherryBomb! - a new dress company run by two wonderful ladies, talented designer Jen Woolcock and burlesque bombshell Bella Besame. Their lovely dresses can be found at
http://www.cherrybomb-uk.com/
and they offer a full made-to-measure service alongside a wide range of sizes, flattering designs and amazing fabrics!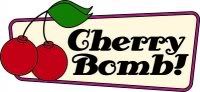 I got to model alongside nine other ladies for a photoshoot and the live launch show. That's me in the pink and blue with yellow accessories!


There was a live launch on 10th December at Manchester's Voodoo Lounge (formerly Bookbinders) - also home to The Slippery Belle Burlesque! on the third Friday of each month. Event photography courtesy of the fabulous Kate Donovan from Donovan's Darlings!
It was great fun, but you can see from my face on these that I was terrified!
The fabulous CherryBomb! Ladies, Bella and Jen -